Posted by Tobias Sommer on Jul 16th 2021
Teaching the future generations a valuable life-long skill
The latest available statistics, provided by EMSI, show that 53% of the skilled labor workforce are over the age of 45, and more than 18 percent are at or nearing retirement age. This leaves the United States facing a potential shortage of skilled trades workers. Our Apprentice Program is hoping to help inspire young workers to take up a trade and keep America running.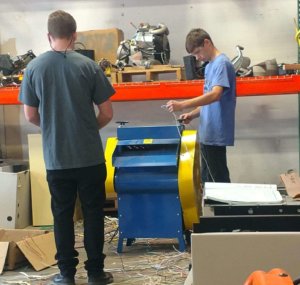 Boys Town has been a safe place for children and young adults to learn, grow, and discover the tools to create a successful life for themselves for over a hundred years. Teaching trades used to be a standard part of the Boys Town experience, but the trades program came to a close in the nineties. Recently, leaders have worked to bring trades back into the lives of their students and residents, and Generators for Sale is proud to be part of this growing movement.
Through our partnership with Boys Town, we offer a hands-on immersive learning experience for young adults, learning to build, maintain, and repair home and commercial generators.
"We have loved having these young adults come in and to get to see them really excited about solving these units. They take their time dismantling a generator, learn how to diagnose a malfunctioning unit, and then reassemble it. Watching them turn on a unit they had in pieces and see it working, the sense of accomplishment these students show after bringing a broken unit back into repair shows that they understand the importance of the work they're able to do. We love it. It's great to see a new generation loving it, too." –Tobias Sommer
Kinesthetic learners develop a better relationship with knowledge through the process of reverse engineering than they could through the use of a text book, and Generators for Sale is proud to offer that opportunity.
To donate a used generator to our apprentice program, visit https://homegeneratorsforsale.com/donations/ and fill out the form provided.